Mark Gordon, Republican candidate for governor, is making a swing through on the west side of the state. Join Mark for lunch, Tuesday, Oct. 23, 12 Noon-1 p.m., Afton Civic Center. It's open to the public, but please RSVP to svidan@silverstar.com so we have enough food!
His web site: https://gordonforwyoming.com/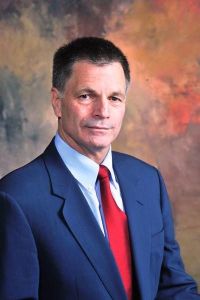 His Facebook Wall: https://www.facebook.com/markgordon4wyoming/
Mark Gordon is a Republican candidate for Governor of Wyoming.
Gordon is running in the general election on November 6, 2018, after advancing from the primary on August 21, 2018.
Gordon is the Wyoming Treasurer. He was appointed on November 26, 2012, to fill the remainder of the term from the previous incumbent, Joseph Meyer, who passed away on October 7, 2012. He was elected to a four-year term in 2014.
Biography:
Gordon grew up on a ranch near Kaycee, Wyoming. Prior to his appointment, he served on the Board of the Federal Reserve Bank of Kansas City, the Wyoming Wildlife and Natural Resource Trust Board, the Johnson County District 1 K-12 School Board and the board of Nature Conservancy of Wyoming. He has continued to serve as the president of the Willow Park Reservoir Company, on the Board of Volunteers of America Northern Rockies and on the board of the Ucross Foundation.
Education:
Bachelor's degree, Middlebury College
Political career:
Wyoming Treasurer (2012-Present)
Gordon was first appointed on November 26, 2012, to fill the remainder of the term from the previous incumbent, Joseph Meyer, who passed away on October 7, 2012.
Elections/Appointments: 2018